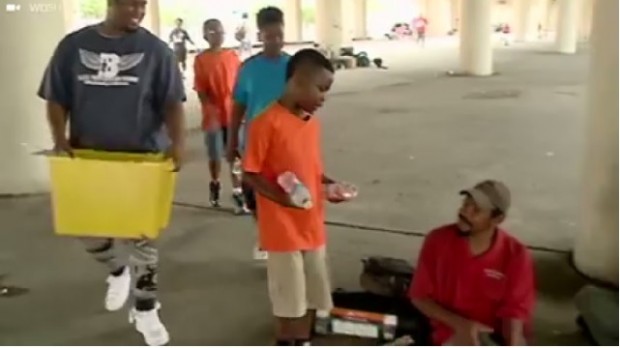 Source: Now This
Prepare to have your faith in humanity restored.
Two young brothers from Louisiana, Kyllon and Derrell Martin Jr., have decided to remind us all how to be better people by starting a charity that delivers lunch bags to homeless residents of New Orleans.
— NowThis (@nowthisnews) June 15, 2016
"We give them water, cookies, fruit snacks, sandwiches," Kyllon explains. "We are helping the homeless, because they really don't get that much food all the time."
A simple truth, but one which is so often ignored by people of all ages.
Each lunch bag is decorated individually, with inspiring messages like, "Never give up," and "Never lose faith," written on them. The Martin brothers are aiming not just to feed the homeless, but to give them hope.
The charity is supported by the B.O.S.S. Youth Outreach Program, but as one of the Martin brothers' adult helpers makes it clear, "This is their [Kyllon and Derrell's] baby, their project," adding, "And it's wonderful and refreshing to be so passionate about making a difference."
So far, the boys claim to have provided food to over 100 homeless people. Hopefully, their example will motivate others to do the same.