Description
Sizzle is fun!
…With Sizzle, anyone can cook right away, because the operation is very simple and self-explanatory.  The glass lid, which can always be opened, provides "cooking by sight," spontaneous seasoning, adding ingredients, and tasting as usual.  The patented locking mechanism that opens and closes with one hand makes cooking a relaxed pleasure.
FEATURES: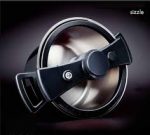 Cooking time reduced to 50%, and up to 70% less energy.
Break-resistant glass lid to view the progress of your meal.
Easy to use locking top that can be opened with one hand.
Can either cook, pressure cook, or steam food.
Can be used with electric gas, ceramic, induction, and halogen.
Remove top during cooking to add ingredients.
Two heat resistant handles.
Made of 18/10 stainless steel.